Chapter 13 (Reorganization) Bankruptcy Attorney
in Orlando, FL
A chapter 13 bankruptcy filing enables you to keep valuable property, especially your car and home, which may otherwise be lost. However, this requires you to make the payments required by the bankruptcy law to your creditors. In many cases, these payments will at least be as much as your regular monthly payments on your car loan or mortgage. You should seriously consider filing for bankruptcy in Orlando, Florida, chapter 13 in Orlando if you:
Own a home but are in danger of losing it due to financial problems
Are behind debt payments, but can catch up if given a certain period
Have valuable, non-exempted property, but you can afford to pay creditors from your income if given additional time
You have a second mortgage that may be removed if your house doesn't worth more than what you owe on your first mortgage
You will need to have sufficient income during your chapter 13 case to pay for your necessities as well as to keep up with upcoming due payments. A large number of government websites purporting to provide information and advice to consumers facing foreclosure do not mention bankruptcy at all. However, chapter 13, bankruptcy eliminates 2nd mortgages on 'underwater' homes and can get consumers caught up with their payments.
Example of Chapter 13 Lien Stripping
Assume a house appraisal is $225,000, and the first mortgage is for $245,000. A home equity line of credit or 2nd mortgage is for $150,000. The mortgage loans amount to $415,000 on a home that is currently valued at $225,000.

A 36-month chapter 13 payment plan is developed, paying $1,500 original for 1st mortgage payment each month. After the completion of the 36-month plan and filing a motion to strip the lien, the new total owed is $191,000, offering you positive equity in your home.

What we are going to share with you now is essential information for homeowners having second mortgages and are finding themselves 'underwater.' This information is necessary to safeguard yourself while making an informed decision regarding your future.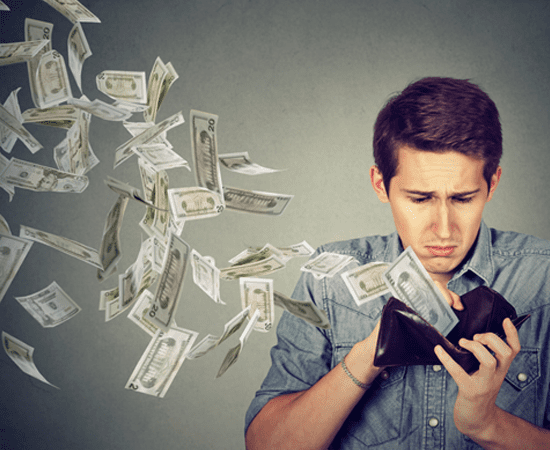 Lenders just secure up to the property's value
The 2nd lender has nothing securing their lien. Their lien is not secure because the property currently has no value leftover from the 1st lien. Therefore, the second mortgage is treated an unsecured creditor
Usually, the 2nd lender will not be able to gather the mortgage lien after the bankruptcy discharge, and the debtors (or homeowners) still get to keep the house.
After the completion of the chapter 13 plan, the homeowners would not even have to pay the lien when selling the house.
The filing of a chapter 13 does have many advantages. One significant benefit is valuing your car at a fair market instead of what you still owe on your loan. For instance, if you bought your car more than 910 days before filing for your bankruptcy petition, you are just responsible for paying an amount equal to the current value of the vehicle. This means, numerically, if you still owed $18,000 on a particular car, its fair market value is just $8,000. In your repayment plan, you would only be required to pay the $8,000. What does this mean? A potential saving of $10,000.
Filing Chapter 13 in Orlando
Often, the consumers can get two options for filing personal bankruptcy in Florida – Chapter 7 or Chapter 13. There is a plethora of differences between the bankruptcies of two types. If there's a consistent source of income for the consumers, here are specific reasons why filing Chapter 13 in Orlando may be advantageous:

Flexibility

o You can convert the case to Chapter 7 or even dismiss it
o You can sell or refinance a house during the plan
o You can expand your payments for a car or other secured debt
o You can alter a plan if you decide to give up a car or a house or if income changes
o Many debts can be discharged – including damages for willful and malicious acts and certain divorce payments

As long as you can make the payments, chapter 13 will save a house from foreclosure.
You can strip a wholly unsecured second mortgage
You won't lose the non-exempt property
If you've owned a car for more than 910 days, the amount owed on it can be devalued to the existing value
Trustees want the plan to succeed and will work with you in collaboration to get it confirmed
Based on your income, the US Trustee can challenge a Chapter 7 case, but challenging the Chapter 13 is not an option
We offer Orlando legal services to clients
throughout Central Florida, in:
In the free consultation, a bankruptcy lawyer in Orlando, FL, will assist you in breaking down every misconception of filing for bankruptcy Chapter 7 and Chapter 13 in Florida, discussing the pros/cons of both bankruptcy options. We will then work together to identify which type of bankruptcy may be the best for you, considering your specific set of circumstances. This consultation will be free. All we want from you is an opportunity to offer you the information you need to make an informed decision.
At Bankruptcy Law Center, our business is assisting people as if you get a fresh start. We consider it an honor to earn your trust and a privilege to be of service. Call us today to schedule your no-obligation, free personal bankruptcy consultation appointment to discuss a Chapter 13 or Chapter 7 bankruptcy in Orlando. Thank you for your consideration, and we look forward to meeting with you. Also, if you wonder about filing Chapter 7 bankruptcy in Florida without a lawyer, wait for the updates from us.